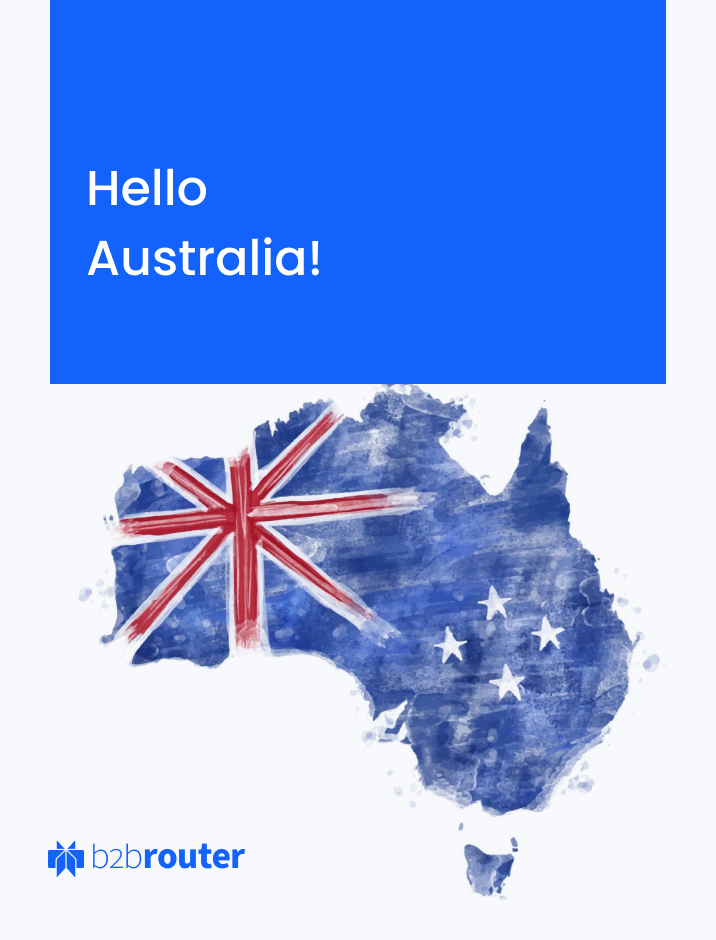 Australia welcomes Peppol!
Early on 2019 the Australian and New Zealand Prime Ministers, Scott Morrison and Jacinda Ardern announced the adoption of Peppol (Pan-European Public Procurement Online) standard as the framework for electronic invoicing. The project should be finished by the end of 2019 with businesses being able to access the e-Invoicing network from that time.
This decision will enhance local business opportunities to participate in the trading environment beyond Australia and New Zealand through the standardization of communication protocols.
It's been a hard road for both governments to implement e-invoicing, but it has finally been achieved.
Why are Aussies choosing Peppol?
By joining PEPPOL, Australia and New Zealand are part of a framework used in over 33 countries and is spreading worldwide, boosting international trade, improving cash flow and lowering the risk of unpaid bills.
The PEPPOL standard provides other services in addition to the electronic invoice, such as e-ordering. This allows many countries to go one step further in the implementation and standardization of electronic invoicing. It would not be surprising if Australia and New Zealand also hosted these services to improve purchase-to-pay and order-to-cash processes.
ATO: Australia's Peppol Authority
The ATO (Australian Taxation Office) became a Peppol Authority on October 31th 2019. Although Australia and New Zealand have separate Peppol Authorities, structures have been aligned to support one another. The effort to standardise invoicing processes has been a collaboration between the ATO, the MBIE, and the e-invoicing players.
Peppol Authorities are responsible for setting local requirements and managing participants of e-invoicing within its country.
ATO's responsibilities, as Peppol Authority include:
supporting accreditation of Service Providers within A-NZ.
supporting the development of Peppol standards and specifications within A-NZ.
providing support for Peppol Service Providers contracting with the A-NZ Peppol Authorities.
monitoring and ensuring Service Provider adherence to Peppol and local requirements.
supporting and engaging with the wider Peppol community.
Australian and New Zealand Governments are now opening capabilities for any supplier to connect to an accredited Service Provider, like B2Brouter, giving them the ability for instant set up of electronic invoices when trading with government agencies.
Why Australia should implement e-invoicing?
Over 20% of Australian small business' late payments are due to errors on invoices and of those, over 20% are due to the invoice being sent to the wrong recipient following manual data entry. National SME's also accumulate a total of $26 billion in debts from unpaid invoices.
The commitment to implement e-invoicing is part of the solution to this situation. With over 1.2 billion invoices exchanged in Australia annually, savings to Australian economy are estimated to be $28 billion over the next 10 years.
But there are more benefits for Australian Business to adopt e-invoicing such as improving cashflow, Cost savings, less errors…
Incentives are coming in 2020 for e-invoicing:
The Australian Government has announced an important incentive for e-invoice users in terms of payment deadlines: Electronic invoices issued via Peppol, for contracts up to $1 million AUD will benefit for a 5 day payment terms otherwise a pay interest will be applied for late payments (check Department of Finance's website for further information).
The new payment policy will be effective on January 1st 2020.
That means SME's will benefit soon from the Government efforts on implementing electronic invoices: such as getting paid faster from government agencies, reducing manual tasks and improve their digital processes.
B2Brouter about to become an Australian certified Peppol Service Provider:
We run a Certified Peppol Access Point in EU since 2011, therefore we've been actively involved in Australia's journey to adopt OpenPeppol standard. B2Brouter is actually completing the latest test to be officially accredited as a certified e-Invoicing Service Provider by the Australian Authorities.
B2Brouter is an online platform that offers electronic invoicing services, sending and receiving invoices, digitization and synchronization between business management systems. B2Brouter currently offers services to public and private companies, has more than 80,000 users and is available in 11 languages.
Our portal allows you to issue unlimited e-invoices thought Peppol for free. You'll be able to reach all your business partners with a single solution (no matter which electronic invoice format they use).
You just have to register, create your company and client and start invoicing now!