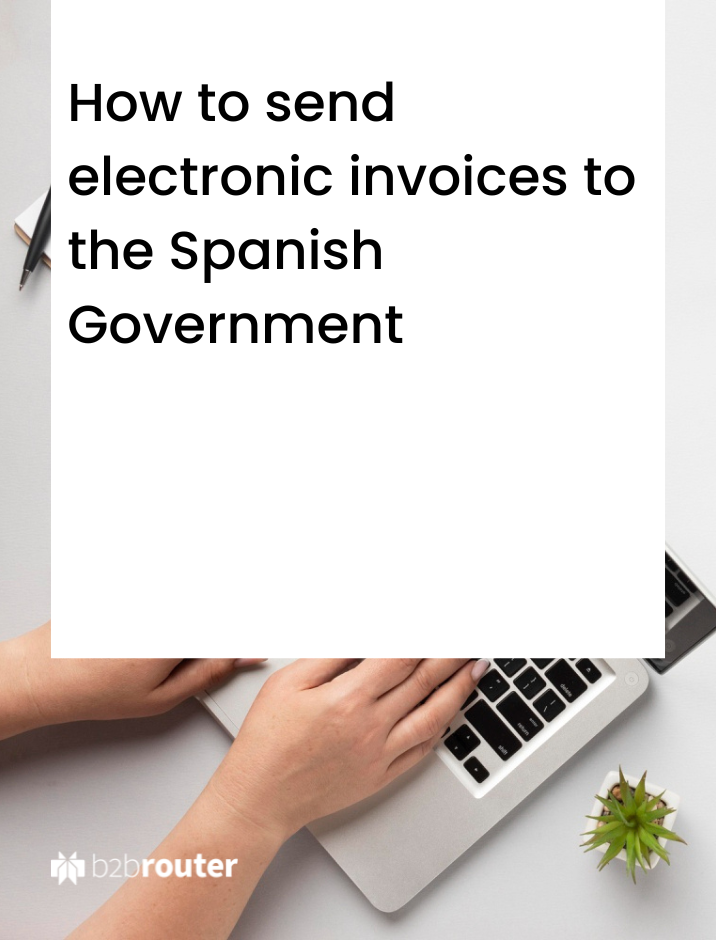 How to send electronic invoices to the Spanish Government
Electronic invoicing in Europe is becoming more important every day. Nowadays, it is a common practice when a company needs to invoice a public authority and it is gradually gaining importance for transactions between private companies. At the international level, it is often complicated to comply with cross-border e-invoicing requirements, taking into account that each country may have different standards, requirements and formats.
In this article we will talk about cross-border e-invoicing. Let's take the example of a supplier who has to send an electronic invoice from his country to Spain, for a public sector recipient. In this case the electronic format of the invoice must be structured and contain certain mandatory information to be valid. In addition, it must contain the sender and receiver data, lines, taxes, etc. The private sector must follow the rules of the game at the behest of the public sector.
What is a cross-border e-invoice?
A cross-border electronic invoice exists when it involves 2 companies having a commercial relationship. These companies are based in 2 bordering countries and are governed by standards and laws specific to each. In this context, companies must take into account the regulatory requirements related to e-invoicing by ensuring the readability, authenticity and integrity of electronic invoices so that they are accepted by the tax authorities.
For example, if you are a supplier and you have to invoice a public sector customer in Spain, you will have to respect the following elements:
Format : Facturae
Delivery method: In Spain there are different public platforms to which the recipient can be adhered (FACe, eFACT, PUEF, etc…).
Send it to the correct recipient: The issuer must enter in the electronic invoice three codes called DIR3 codes. These codes direct the electronic invoice to the correct receiver and if they are not present, the invoice cannot be processed.
How to send a cross-border invoice without error?
Send an electronic invoice to Spain via the public FACe platform
The Spanish administration provides companies with its electronic invoicing platform and requests that all invoices pass through this tool. This official solution is free and allows you to manage all trade with Spanish public companies. However, this tool can be complicated to use for the following reasons:
The platform is in Spanish, the language barrier can be a hindrance for some companies.
The lack of ergonomics of the platform, because it offers generic and basic services and uses.
The obligation to have an electronic certificate or electronic signature to send your electronic invoices.
There is no support service for the FACe platform in case of a problem.
Invoice status is not linked to the FACe platform. Because of this, it is impossible to know if your invoice has been sent, accepted, rejected or in error, or the evolution of its status throughout its processing.
Send an electronic invoice to Spain via a private platform
Very often, public platforms indicate and recommend private partners to ensure full compliance for companies. Several alternatives exist to create, send and manage your electronic invoices more easily.
In order to select your private platform, you should consider your company's needs. Below are some important considerations to keep in mind:
The connection to all public administrations. If international commerce is an important part of your business, don't hesitate to come up with a unique solution that is global and open.
A partner who is solid and recognized. The change of your IT system is a significant financial and organizational investment, so prefer a technology partner experienced in electronic invoicing. Follow the recommendations of public administrations and international organizations (Peppol) or verify the certifications and agreements made by the informatics partner.
The possibility of integrating your invoicing system. Beyond electronic invoicing, you have the possibility of automating many tasks by interfacing your electronic invoicing platform with your ERP or your invoicing system. If this is your wish, many solutions exist: API, a connector, etc.
Functionalities or complementary services. Because the added value of a private partner lies in its ability to offer more than the Spanish public platform, you will benefit from an ergonomic and global solution, innovative functionalities and a specific support service.
Choosing a unique electronic invoice solution and opening it up to the world
Managing your electronic invoicing with a specialized provider has many advantages. With B2Brouter, you will be able to send your invoices to the Spanish public administration or to European and global administrations as well. In addition B2Brouter allows you to generate the invoicing of your private clients (B2B) and to receive the invoices from your suppliers. You can therefore centralize your commercial management on a single platform. Discover the benefits of the B2Brouter cloud solution:
A service designed to make your job easier. You create and send an electronic invoice easily and correctly without having to worry about format, delivery channel, etc.
Look for a supplier in our certified directory to send your electronic invoices to many public administrations around the world. Here is an example of the data required for the correct transmission of your electronic invoice to the Spanish public platform FACe. Learn more.
Notifications and status changes
E-invoice providers usually include status change notifications in their service. This means that every time you send an invoice, you don't have to contact your customer to find out whether they posted or rejected the invoice. The B2Brouter system informs you of this.
Avoid storing and retaining invoices in your system. The B2Brouter online invoicing system stores and maintains your invoices securely in the cloud, saving space in your system and accessing them whenever you want.
Since electronic invoicing can sometimes be complex, it is very important to have an expert at your side, who will help you on a daily basis.
B2Brouter: the alternative to send your electronic invoices to Spain
B2Brouter is an online platform that allows you to easily create and send electronic invoices. Directly connected to the Spanish public portal (FACe), you will find all the information necessary to issue a cross-border e-invoice without error.
More than 120,000 companies use B2Brouter. It is almost connected to all European governments and other administrations around the world. Discover our new Professional plan to manage international invoices.