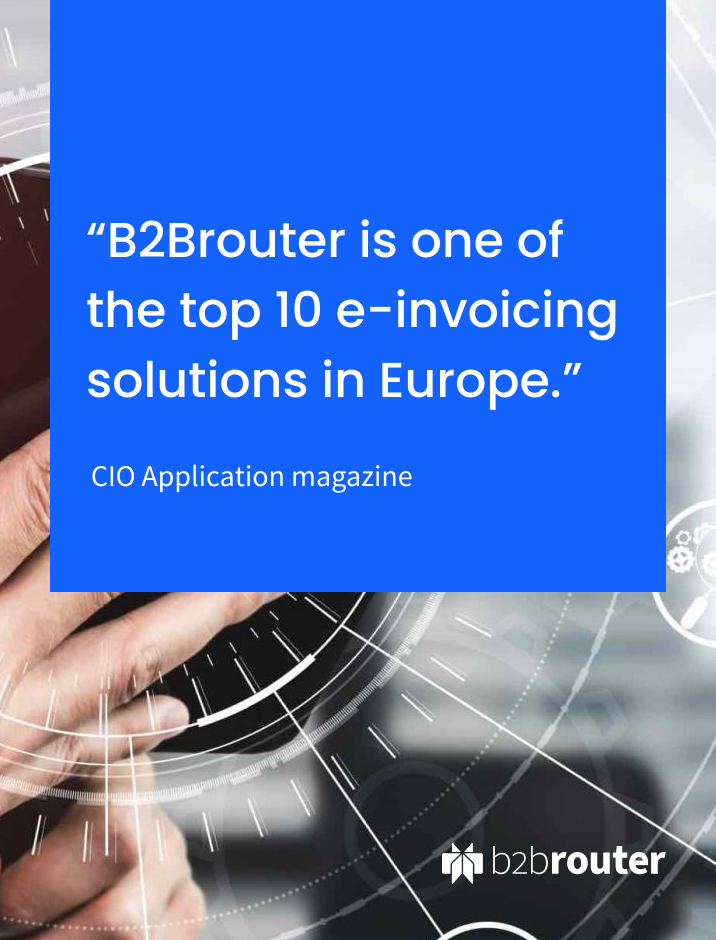 B2Brouter: top 10 of e-invoicing solutions
B2Brouter, according to the prestigious CIO Application magazine, is one of the top 10 e-invoicing solutions in Europe.
CIO Application awards B2Brouter
CIO Application is a business technology magazine from Silicon Valley with a presence in Europe and the rest of the world. It talks about new technologies, trends and tools, with the intention of providing valuable information for companies, contributing to the digitization and efficient development of business processes in all types of organizations.
In this edition, CIO talked about e-invoicing and gave B2Brouter the "Top E Invoincing Solution Provider 2021" award.
Therefore, they have published an interesting interview with our CEO Oriol Bausà, where he has exposed the vision and direction that our company is taking in the world of electronic document exchange.
Here you can see the complete article.
B2Brouter, an electronic document exchange solution
B2Brouter is an electronic invoicing solution and other electronic documents. With a strong presence in Spain, it is expanding in Europe (France, Germany, Belgium, Sweden, etc) and other regions of the world such as Australia and New Zealand.
With a freemium model, it allows companies to register for free, start sending electronic invoices almost immediately and thus begin the transition to the digitization of their processes.
The idea is that that, thanks to the use of global standards, organizations around the world can send and receive electronic documents to and from each other, without technological or economic barriers and regardless of the format of the documents or the networks through which the documents are exchanged.
In addition, B2Brouter offers integration services that allow connecting management systems or ERPs of companies with the platform, which enables the automation of the processes of issuance and receipt of electronic documents, where B2Brouter ensures that these exchanges comply with the requirements of each country or recipient.
Sign up and start invoicing now!