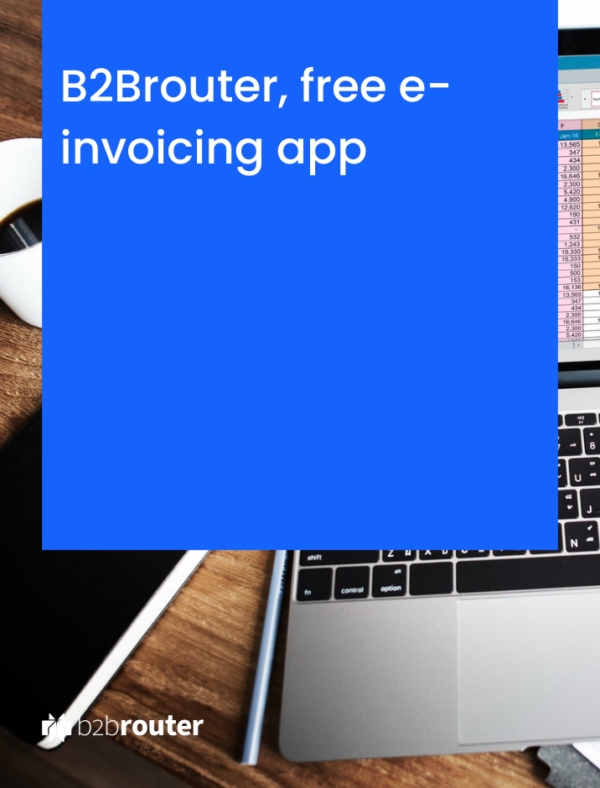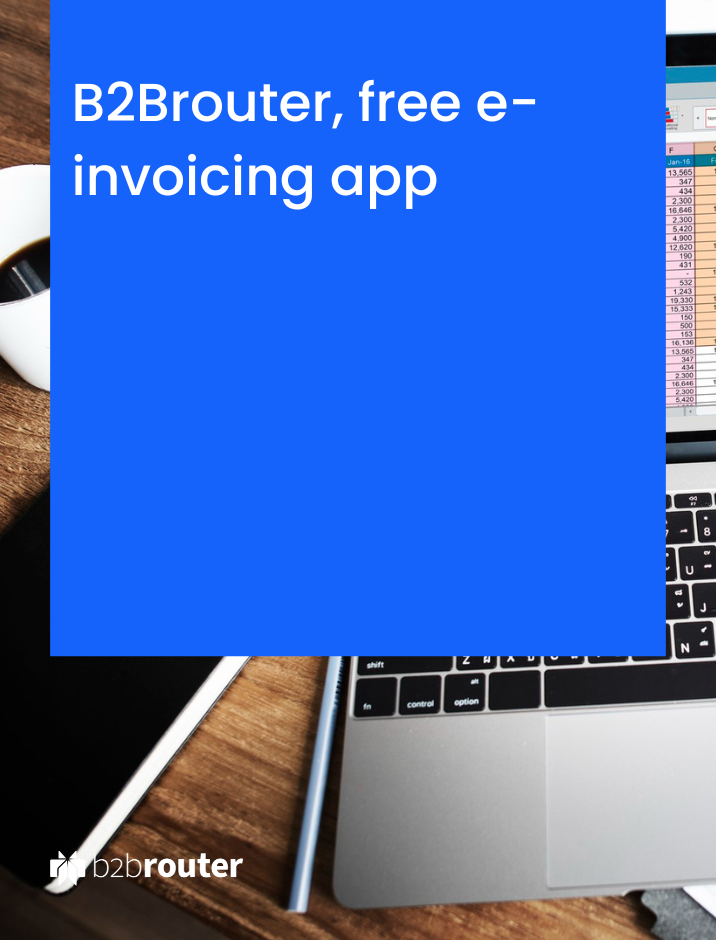 B2Brouter, free e-invoicing app
Did you know that B2Brouter is a free e-invoicing app? It is a solution that allows you to send electronic invoices to your private and public clients, free of charge and with no limit to the number of invoices, clients and time.
Below we explain everything you can do with B2Brouter's Basic Plan, which is totally free:
B2Brouter, the free e-invoicing app for small business
B2Brouter is a free cloud-based invoice software that helps you send and receive invoices and other electronic documents to your customers and suppliers in the right format and through the required network. Thus, it allows you to manage invoicing with your private customers and also allows you to manage electronic invoicing in cases where the law requires it (state contractors and subcontracts, electronic invoicing to the national public administration, electronic invoicing with the European public administration and soon, electronic invoicing between private companies).
The B2Brouter application has three types of plans that serve any type of need of any type of company.
The Basic Plan: Free e-invoicing software
One of these plans is the Basic Plan, which allows you to enjoy a free invoicing program, while giving you the opportunity to test multiple functionalities to optimize the management of your business.
Management of users and companies
With the Basic Plan you can register a user with which you can manage all your companies, whether one or multiple, of any size.
This user is the one who keeps the property of all the companies registered by the owner user.
Contacts
B2Brouter is a free invoicing app, which allows you to register all your contacts easily. Currently there are two types of contacts in the B2Brouter platform, customers and suppliers.
With the Basic Plan, you can register as many customers or suppliers as you want to manage all related documents. In addition, the platform has a directory of companies that is fed progressively. This means that in many cases, you only have to insert your customer's or supplier's ID and all the other data is automatically filled in.
Sending invoices for free
One of the great values of B2Brouter is the ability to send invoices and other electronic documents. Sending electronic invoices, especially to large corporations or public institutions, is highly complex. B2Brouter turns all this complexity into a very simple process and, as a consequence, you do not have to worry about technical aspects such as the format in which you have to send the electronic invoice or the network through which you have to send it.
Thus, with B2Brouter you can send unlimited electronic invoices nationally and through the Peppol international network. That is, to all public and private companies in your country, using different sending methods.
The Basic Plan also allows you to send invoices by e-mail (XML or PDF download link). With this sending method, you send an email with a link. Your customer can access and download the invoice by clicking on this link. This is a secure way of sending, since the invoice does not leave B2Brouter until the recipient does not download it. Therefore, we make sure that it cannot have been intervened and modified during the sending process.
Invoice creation and edition
B2Brouter is designed so that you can manage and create all your invoices in a simple way. It is as easy as selecting the client and adding the data that the navigator invoice must contain through different sections (General data, Lines, Payment method, etc.).
The B2Brouter Basic Plan has no invoice limit. This means that you can create and send as many invoices as you want without any limitation from the platform.
In addition, you can always go back and edit these invoices you already created.
Electronic signature
In many occasions, especially in the case of issuing invoices to public entities, invoices must incorporate an electronic signature by means of an accredited digital certificate.
With B2Brouter's Basic Plan you can incorporate the delegated signature with B2Brouter's digital certificate to the invoices you issue to public entities. This way you can forget about the maintenance of your own certificate.
Incoming invoices
The management of incoming invoices is usually a headache for any company. Invoices are received through different reception methods and the control and traceability of the documents is lost, in addition to not knowing which invoices have been paid and which have not.
With B2Brouter's Basic Plan you can receive, register or create and manage all supplier invoices as follows:
Receive invoices from other users: In this case, you can receive invoices from other users who work with B2Brouter and send them from the portal. This reception method is very simple, since both companies are registered in B2Brouter. In addition, you can send changes to your supplier of the invoices you have received.
Upload received invoices: You can register to your list of received invoices those invoices that you have received externally to B2Brouter. This allows you to keep an exhaustive control of all documents. In this case, you can import received invoices in structured electronic format (UBL, Facturae, XRechnung, etc.) and PDF.
Manual creation of incoming invoices: The free plan also allows you to register incoming invoices manually, entering the data through a form, as you can do with outgoing invoices.
Here you can find more detailed information about the different methods of receiving supplier invoices, which you can use with B2Brouter.
Invoice collection
In order to collect the invoices you issue to your customers, in the configuration section of your company you can add and define a default bank account where your customers can make payments to you.
In addition, with B2Brouter you have the possibility to choose between several payment methods. One of the most used is the "bank card" payment method. If you choose this option to collect your invoices, you can register with Stripe to define this payment method. In this way, your customer can pay you quickly and easily with his debit or credit card, at the same time he receives the invoice.
Here you can find more information about online invoice collection.
Treasury
You can also keep track of your business receipts and payments in the Banks section. To take full advantage of this functionality, it is recommended the intensive use in the platform of invoices issued and invoices received.
By having all the invoices of your business within the B2Brouter platform, you have a better control of your treasury and you can register the collections and payments manually (unless you use Stripe, which in this case is automatic).
Overview
If you manage all your invoices issued and received from B2Brouter and you also control the collections and payments, from the Overview section you can keep track of the amounts collected/paid and the amounts pending to be collected/payed. This allows you to have a quick and easy view of the financial status of your company.
Invoice status notifications within the platform
B2Brouter allows you to send through open networks that communicate the change of status of invoices. This means that you can check your invoices to see if they have been registered, accepted or refused.
If you do not want to log in to your account to check the status of your invoices, you can also receive notifications via email. In this case, you need to sign up for one of the Premium Plans.
Support
B2Brouter's user support or help is available to all users, regardless of the plan they use. So, even if you work with the Basic Plan, you can use the online support service available within your account. You only need to open an issue to communicate with our team and we will solve all the doubts you may have while working with our free invoice app.
Peppol International Network
Peppol is an international network for the exchange of electronic documents (electronic invoices, orders, delivery notes, etc.) that is gaining importance on a global scale.
From B2Brouter we are aware of the importance that the Peppol network is acquiring and for this reason we allow you to register and exchange electronic documents, free of charge, at the national level. Therefore, with the Basic Plan:
You can register your company on the Peppol network.
You can send invoices to other national companies.
You can receive status changes of the invoices you have sent.
Invoice financing
The Basic Plan also allows you to request the financing of the invoices you send if you deem it appropriate.
Invoice financing is only possible if the invoice sent meets certain characteristics related to the amount or the recipient. So, once you have sent an invoice, if the financing option is activated, you can request it through a contact form.
As you can see, with B2Brouter's Basic Plan you have access to a free invoice app for small business, which allows you to start with the management of your company.
Sign up for free and start invoicing now!