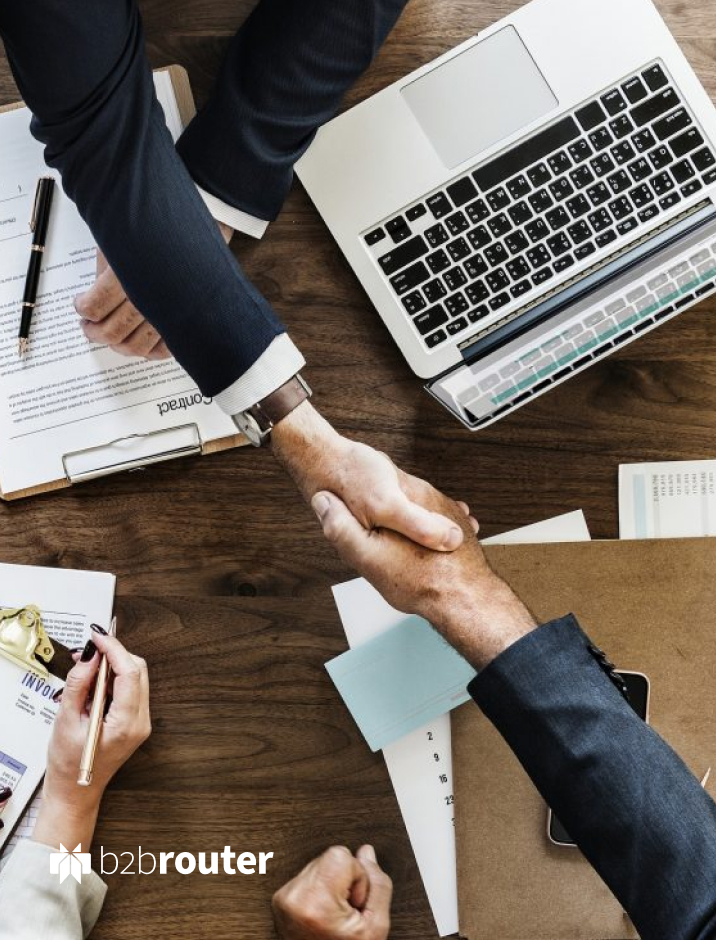 Electronic Invoicing between B2Brouter users
Now you can receive electronic invoices from other B2Brouter users, free of charge, due to the new internal channel we have created for users who use our platform. In addition, you will be able to notify invoice status changes and communicate with your supplier in a simple and direct way without having to contact them by phone or email.
Receive an electronic invoice from another B2Brouter user
Although B2Brouter has different methods of receiving invoices, if your suppliers also use the platform, they can easily send you invoices through the platform for free. The connection between companies is automatic, as the system detects that both companies are B2Brouter users. As a result, errors such as sending invoices through the wrong channel are avoided.
Contact your supplier using B2Brouter
Another advantage offered by the internal channel of B2Brouter is the possibility of exchanging messages between companies. As it happens with Peppol, Chorus Pro, the General Entry Points like FACe or FACeB2B, the internal channel of B2Brouter allows you to send status changes to your suppliers using the platform, once you have received the invoice:
Accepted: To inform your supplier that the invoice is correct and you accept it.
Refused: To inform your supplier that you are rejecting the invoice. In addition, you can specify and send the reason for the rejection.
Paid: To inform your supplier that you have paid the invoice.
Once you change the invoice status, it will be sent to your supplier. Therefore, the supplier will be informed at any time.
In addition to the status changes, B2Brouter allows you to use an internal communication system for every invoice. This is a functionality which allows you to send messages to your supplier/client via each invoice, similar to a chat. This option is only available when both companies are using B2Brouter and the invoice has been sent through the platform.
Unify all your invoicing on a single platform and offer your suppliers an alternative
B2Brouter allows you to issue electronic invoices and now also to receive them. Therefore, you can unify and store all your invoices in one single platform. All this for free, not only for you, but also for your suppliers. If you want to manage the received invoices from your account, you can offer your suppliers the alternative to use the free B2Brouter version to issue the invoices using the internal channel.
Why using B2Brouter?
Simple: It is a simple and intuitive application.
Online: It is a cloud platform to which you can access at the office, your home, a hotel, etc.
Storage: If you want, you can store all the invoices in B2Brouter, saving space in your servers.
Free Plan: You can use the Basic plan (free) to send and receive invoices. Your suppliers can use the free plan to send you invoices without any additional cost for them. This plan has no limit on documents or usage time.
Comunition: Notify your suppliers, directly from the platform, about the status of the invoices they have sent you.
Security: Sending and receiving invoices using B2Brouter's internal channel guarantees you a secure process. The invoices do not go out of the system.
Support: Do you have doubts? Do not worry, our support team will help you and guide you through the learning process. They will solve any doubt or issue that may arise.
International: B2Brouter is an international platform that allows you to create and register companies from all over the world to send and receive invoices.
Experience: B2Brouter is an e-invoicing platform with more than 13 years of experience.
Sign up for free and test our internal invoice exchange channel right now.